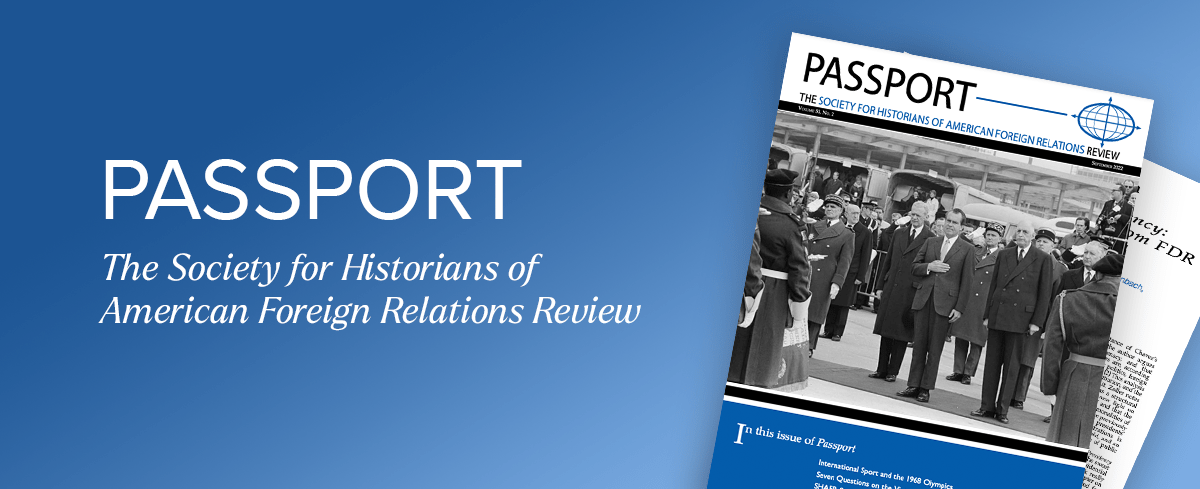 Passport
Thanks to a partnership between SHAFR and Middle Tennessee State University (MTSU), all back issues of Passport (formerly known as the SHAFR Newsletter) are now available electronically.
Past Issues
Issues published since April 2009 are available online, while older issues are available through the MTSU Institutional Repository: https://jewlscholar.mtsu.edu/handle/mtsu/4769. This initiative both preserves the history of our organization and field and makes it more widely available.
Many thanks to those who helped make this possible, especially the staff at the MTSU Walker Library;  David Anderson provided issues that were missing from the SHAFR archive; and Drs. Hasan Karayam and Marquita Reed did all of the scanning while they were graduate students at MTSU. 
Passport: The Society for Historians of American Foreign Relations Review is edited by Andrew L. Johns of Brigham Young University and the David M. Kennedy Center for International Studies.  Passport publishes reviews, historiographical essays, articles on pedagogical issues relating to the teaching of U.S. foreign relations, and research notes, and explores other issues of interest to SHAFR members.  Passport is published by Oxford University Press on behalf of SHAFR in January, April, and September
---
Submissions
Unsolicited submissions to Passport are welcome.  All submissions should be sent to the editor via e-mail in either Word or WordPerfect format.  The deadlines for time-sensitive material (e.g. advertisements, announcements) are:  April issue, January 15; September issue, June 1; January issue, October 1.
Please direct inquiries or submissions to:
Andrew Johns, Editor
Passport
c/o Andrew Johns
Department of History
Brigham Young University
2161 JFSB
Provo, UT 84602
E-mail [email protected] or [email protected]
---
Advertisers